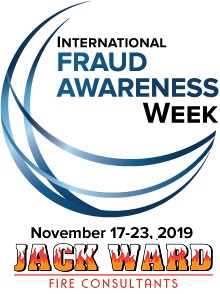 This week is International Fraud Awareness Week and Jack Ward Fire Consultants is working with the Association of Certified Fraud Examiners (ACFE) to encourage businesses to join the global effort to minimize the impact of fraud by promoting anti-fraud awareness and education this week. According to the ACFE, businesses worldwide lose approximately five percent of annual revenue to fraud. In total, fraud costs individuals and businesses across the globe $3.7 trillion every year.
Fraud takes many shapes and forms, among them corporate fraud, consumer fraud, tax fraud, identity theft, and many others. International Fraud Awareness Week helps anti-fraud professionals go further in their role and start discussions amongst peers, coworkers, executives, and stakeholders in their community about how important fraud prevention is to society as a whole.
Fraud prevention is an important part of fire investigation. Our systematic approach to all investigations provides insurance companies with the information and documentation necessary to decide their next course of action. Our forensic investigations are completed with comprehensive final reports, which include a detailed analysis of the fire scene, photos, diagrams, and other documentation as applicable for insurance fraud investigations. Additionally, our team can assist with evaluation of witness interviews, depositions, and other trial preparations. For more info, check out our page detailing Origin and Cause Investigations.
Jack Ward Fire Consultants is not only dedicated to preventing fraud in our investigative process, but also our personal lives. Here are a few general tips to help everyone avoid day-to-day fraud:
Use credit cards for transactions, if possible. While charges on both debit and credit cards can be disputed if the card number is stolen, with debit charges those funds have already been accessed.
Review credit reports at least once a year. Consumers have the right to a free credit report annually from the three major credit reporting agencies.
Do not provide financial or personal information, such as passwords and Social Security Numbers, in response to a solicitation.
Use strong passwords that incorporate a mixture of capitalized and lowercase letters, numbers and special characters.
Do not use the same password across multiple applications or websites.
Be wary of clicking on links in an email, even if it is from a familiar bank or business entity. Call the institution to determine whether the email is legitimate.
Do not automatically trust the number listed on the caller ID. Scammers can spoof the caller ID to make it appear as if any number is calling.